Recipe modified by You Want Me to Cook? – June 16, 2011
For a commentary-free and printer-friendly version of it, please click here
.
Okay, this isn't Thanksgiving related, but I have a lot of organizing to go through. Here is a recipe I made well before the countdown to the holidays…
I always fear that I'm going to miss a recipe because it doesn't tickle my fancy when I come across it. For example, I occasionally will see a recipe with wine or rum in it and wrinkle my nose, but every time I make a marsala dish or a rum cake, I fall in love. I stared at this recipe for a while before deciding to make it. It was simple and contained savory ingredients (butter, garlic, pork), but I kept stumbling over the wine part. I finally said, "Screw this! I'm putting it on my list of things to make."
© You Want Me to Cook?
Modenese Pork Chops
I swear you can look at this picture and tell how good it smells. I'm willing to concede that my pork chops don't have the same level of browning that the original recipe writer had. It's mostly because I chose a boneless chop and boneless chops cook faster. It is saved by the savory looking sauce though.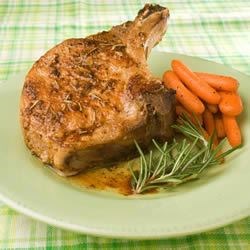 © Allrecipes
I'm glad I went by the ingredient listing rather than the picture. It isn't that their presentation is bad, it just looks dry. The final dish is so savory and tasty that it just doesn't do it justice.
Mess
:

NADA

– This recipe is almost the exact definition of a low-mess dish. Everything is done in one pan. There is minimal chance of spilling anything. If you use pre-minced garlic, as I did, there is no ingredient prep work at all. I wish all tasty dishes were this easy.
Start-to-Finish Time:
WELL UNDER AN HOUR

– One of those few times that the recipe was made as the time stated by the recipe writer. This one could definitely be an easy meal to throw together after work.
Prep Work
:

ALL FINGERS STILL HERE

– Yes, I used pre-minced garlic, which some chefs would gag at the thought of using. However, even if you decide to mince fresh, it is so minimal that I can't justify anything worse than this rating.
Ease of Recipe
:

COOK IT IN MY SLEEP

– It is even easier than making hamburgers. The meat is browned and then you throw in the sauce ingredients on top of it.
Overall
:

YUMMY

– This has been filed in one of the quick, easy and tasty recipe files. I have almost everything on hand and could simply stop at the store to pick up some pork chops if I don't have any in the freezer.
I am not a doctor or dietician. I make my nutritional assessments with the aid of Spark Recipes. I run the original recipe and my altered recipe through their calorie counter and then compute the differences I find. My numbers are to be used as a guideline. Anyone who is under dietary medical supervision should follow the advice of their medical professional if their opinion differs from mine. PLEASE!
You've got 4 chops, so you'll have 4 servings. Of course, you can't eat just a chop for dinner (well I can, but that's not really a healthy diet) so while the dish is simmering, throw together a salad and steam some vegetables (they've got some great options from Green Giant), or if you're really motivated, bake a potato. I served it with a potato casserole which took twice as long as the pork chops and made me want to slam my hand into a drawer.
As I said before, I came almost right in on time making this recipe. I probably would have been ever earlier had I used my thermometer and made sure the butter and pan were hot. My timing came in as the following:
Prep: none

Start to simmer: 22 minutes

Simmer: 20 minutes

Total Time: 42 minutes
I honestly can't figure out what they did in prep for this dish. If it took them 10 minutes to mince some garlic, they shouldn't be running a food website. I'm not complaining too much though because whatever they did, it took about the same amount of time that it took me to get the same result.
Calories: 297

Total Fat: 19.2g

Cholesterol: 88mg

Sodium: 698mg

Total Carbs: 1.5g

Dietary Fiber: 0.1g

Protein: 23.2g
Not bad! For the entrée, this nutritional information is pretty decent. Of course, you'll have to be careful for your side dishes, but this is a great foundation to build from. Me being the skeptic, I needed to run the original recipe through my calculator. Here's what I found:
Calories 318.2

Total Fat 23.9 g

Saturated Fat 11.8 g

Cholesterol 84.4 mg

Sodium 621.3 mg

Potassium 349.6 mg

Total Carbohydrate 0.9 g

Dietary Fiber 0.1 g

Sugars 0.0 g

Protein 19.4 g
Yeouch! At first glance, it isn't that bad, until you factor in the additional fat and less protein. Still, I've seen worse. If I was going to make it "as is" I would be very careful selecting my sides. I did make one major change. I used a boneless and leaner cut of beef. When I re-ran it through the calculator I came up with the following nutritional information:
Calories 276.6

Total Fat 18.9 g

Saturated Fat 10.0 g

Polyunsaturated Fat 1.0 g

Monounsaturated Fat 6.8 g

Cholesterol 82.2 mg

Sodium 802.8 mg

Potassium 303.7 mg

Total Carbohydrate 0.6 g

Dietary Fiber 0.1 g

Sugars 0.0 g

Protein 20.4 g
Obviously, there is a definite difference between the two. It is worth the extra cost of the boneless (and better cut) chop. The numbers are better than even the original recipe. Also, this dish is rich in Selenium (47.2% of the daily recommendation) which the body needs for normal growth and health. Also it is needed for certain enzymes that help with normal body functions. Of course the drawback is that boneless pork chops can dry out easily, so be careful when cooking.
Changes denoted by red text
© You Want Me to Cook?
Modenese Pork Chops - Ingredients
4 (1 inch thick)

boneless

pork chops
1/2 cup dry white wine

with

lemon
1/8 teaspoon fresh ground black pepper
1/2 teaspoon crushed dried rosemary
Pork Chops
– The recipe didn't say bone-in, so I picked a boneless center cut for a leaner piece of meat. Of course, looking at the picture, they used a bone-in cut. Just remember that, according to Cook'sThesaurus
, pork chops usually turn out juicier if they're attached to the bone. You'll have to make sure you use a meat thermometer to make sure you don't overcook it.
White Wine
– I didn't have any wine on hand and also didn't have any regular cooking wine so I used one that I bought with lemon. It was a fantastic addition!
Garlic
– I used pre-minced garlic to make my life easier. Made the dish a no-prep one for me!
© You Want Me to Cook?
Modenese Pork Chops - Equipment
Dutch Oven
– This recipe called for a large skillet, but I didn't have one that was deep enough to hold the pork chops and sauce, so I used my Dutch oven.
(1)
In a

Dutch oven

, melt butter over medium heat.
(2)
Cook chops in butter, turning once to brown evenly.
My chops never really browned. I let them go for about 20 minutes before I added the wine and rest of the ingredients. This probably was the cause of them being slightly dry, but still tasty.
(3)
Pour in wine, and season with salt, pepper, rosemary, and garlic.
(4)
Simmer, uncovered, for 20 minutes, or until chops are tender.
(5)
Transfer pork chops to serving plates, and spoon sauce over the meat.
Although it doesn't say it, you should let the chops set for 3-5 minutes before eating them.
The pork chops were a little dry, mostly because I didn't follow my own advice and use a meat thermometer. Actually, let me back up and say that the advice came from me NOT using a meat thermometer and having dry chops. Anywho… it was a little dry, but the sauce completely saved it. The lemon in the wine was a divine addition to the dish.
I'd heat the pan over medium-high heat before adding the butter. It "should" help the meat brown better and faster.

I'd monitor the meat with a meat thermometer to make sure it doesn't overcook. (Pork should be cooked to a temperature of 145°F) If the sauce needs to cook longer, you can remove the chops from the sauce and cook the sauce a little longer.

Always add lemon juice!